Santa Monica Municipal Airport
Overview summary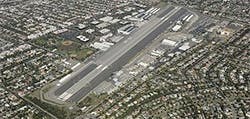 Santa Monica Municipal Airport is located just minutes from the sandy beaches of the Pacific, bright lights of Hollywood and tall buildings of downtown Los Angeles.
The City of Santa Monica & the FAA have agreed to close this airport at the end of 2028, as well as shorten the 4,973-foot runway down to 3,500 feet by 2018, making it inaccessible for larger jets.

For private jet hire to or from Santa Monica Municipal Airport call PrivateFly on +44 (0) 20 7100 6960 (24 Hours).
Landing | History | Location | Facilities | Facts | Prices
LANDING AT SANTA MONICA MUNICIPAL AIRPORT
SANTA MONICA MUNICIPAL AIRPORT HISTORY
Originally known as Clover Field, Santa Monica Municipal Airport was first used during World War I with biplanes operating out of the airport's informal landing strip. Donald Douglass formed the Douglass Aircraft Company in 1924 and established the company's headquarters at the airport. The airport rapidly grew in size and complexity due to Douglass' presence.
At the height of World War II up to 44,000 people worked on the airport's property. The war's end brought dramatic change to the airfield with Douglass moving their manufacturing facilities to the much larger Long Beach Airport. Since company's departure, Santa Monica Municipal Airport has developed into one of the busiest single runway private jet airports in the world and is frequently used by many of Hollywood's most famous names.
In 2017, the FAA and the City of Santa Monica came to agreement to close Santa Monica Airport at the end of 2028. The airport's 4,973-foot runway will also be shortened down to 3,500 feet by 2018.
SANTA MONICA MUNICIPAL AIRPORT LOCATION
Santa Monica Municipal Airport is ideally located for easy access to almost all of Los Angeles major landmarks.

It is just 2 miles from the Santa Monica Pier and the Pacific's golden beaches, while also being just 6 miles from downtown LA. Its close proximity to both Interstate 10 and 405 means you are just a quick car ride away from all Southern California has to offer.
SANTA MONICA MUNICIPAL AIRPORT FACILITIES
Atlantic Aviation operates the only FBO on the airfield. Their facilities include a spacious private jet passenger terminal equipped with a conference room and passenger lounge.

In addition, Atlantic Aviation at Santa Monica Municipal Airport operates a hangar facility that houses the famous World Cruiser, the first plane to fly around the world. Their hangar facility is large enough to accommodate most transient aircraft.
SANTA MONICA MUNICIPAL AIRPORT FACTS
Airport Codes: KSMO/SMO
Latitude: 34.01 North
Longitude: 118.45 West
Elevation: 177 feet
PRIVATE JET CHARTER FLIGHT PRICES FOR SANTA MONICA MUNICIPAL AIRPORT
Find private flight prices online for private jet charter to or from Santa Monica Municipal Airport with our private jet cost calculator