Providenciales Airport by Private Jet
Overview summary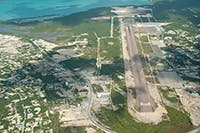 Providenciales is an Island situated in the Caribbean, with its International Airport serving the Turks and Caicos Islands. A wealthy niche for property developers, the Island attracts business travellers as well as holiday makers looking to relax in pure luxury.

The Island has an area of approximately 98km² with an estimated population of 32,000 people. In 2011 Providenciales was rated as having the best beach destination in the world by Trip Advisor, beating off fierce competition by neighbouring Islands.

For private jet charter or helicopter flights from Providenciales Airport call PrivateFly on +44 20 7100 6960 (24 hours).
History | Landing at Providenciales Airport | Facts | Location
History
Providenciales' relatively new airport was opened in the eighties when the Island saw a huge surge of development. In June 2010 expansion plans for a longer runway and better terminal facilities started, increasing the runway by 500 meters to a total length of 2,804m.

This new extended runway will enable corporate airliners such as the Airbus ACJ and Boeing BBJ to operate fully loaded, performing flights directly from the Caribbean to Europe, America, Africa and the Middle East. Aircraft such as the Global Express and Gulfstream G550 are currently the best options for long range flights of 10 hours and over.
Landing at Providenciales Airport
Facts
ICAO/IATA: MBPV / PLS
Lat: 21° 46 26.00" N
Long: 72° 16' 07.00" W
Elevation: 28ft (9m)
Runway length: 2807m (9209ft)
Location
Providenciales International has one fixed based operator at the airport, the Provo Air Center, who primarily serve business, recreational and private charter flights. Customs and immigration services are available at the FBO, allowing passengers to quickly transit the airport and by-pass the main passenger terminal building with ease.

The Provo Air Center also provide a number of additional services including: Cleaning, light aircraft maintenance, car rental, gourmet catering and concierge services. Passengers can relax and enjoy VIP services in a fully dedicated executive lounge.