Mustang renaissance
For private jet charter advice and prices call our 24 hour expert Flight Team on +44 (0)20 7315 4438 or search for instant estimate prices from your local airport using our flight search: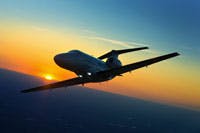 With 400 aircraft now sold and production continuing with steady success. Cessna's Citation Mustang aircraft appears to be establishing itself in a market that originally appeared hostile.
Although there are now nearly 100 Mustangs available for charter in Europe, the picture has not always looked so rosy for the type.
When it was first released, few were convinced that the "very light jet" segment would be popular, with passengers routinely opting for larger aircraft.
While originally intended as a single-pilot operated very light jet for mainly personal use, the Mustang has really taken off in the European aircraft charter market as an air taxi.
Perfect for short flights of 3 hours or less with 4 passengers or less.
A number of companies have been operating Mustangs successfully throughout the continent, often with the aircraft transient across many major cities in order to reduce positioning costs.
Cessna Citation Mustang Advantages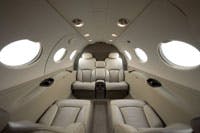 The key advantages of the Mustang in this role are its extreme cost-effectiveness, combined with high comfort levels on short journeys.
Many regular travellers liken flying in them to being in the back of a spacious limousine, which is ideal considering the average journey length is around 90 minutes with 2 passengers aboard.
The real selling point, for both business and leisure travellers is its pricing.
The aircraft flies at approximately EUR 1200 (USD 1600, GBP 1000) per hour, almost matching the rates of many propeller aircraft.
Within North America and Continental Europe, however, the requirement for cost-effective smaller aircraft that facilitate business day trips and family leisure trips, the aircraft becomes more popular day-by-day.
PrivateFly recommends Cessna Citation Mustangs within its small jet group due to great availability within the market, excellent pricing and a large baggage capacity considering the aircraft's size.
Cessna Citation Mustang Highlights
| | |
| --- | --- |
| Number of Mustangs built: | 420 |
| Mustangs available for charter globally: | 130 |
| Average price per operating hour: | EUR 1200 |
| Average length of Mustang journey: | 86 minutes |
How to charter a Cessna Citation Mustang
For private jet charter prices and advice on chartering a Cessna Mustang call us on +44 (0)20 7315 4438 (24 hours).