Spotlight: Charter a Hawker 4000
For private jet charter advice and prices call our 24 hour expert Flight Team on 020 7100 6960 or search for instant estimate prices from your local airport using our flight search:
Seats: Up to 8 Speed: Up to 470 kts Range: 3390nm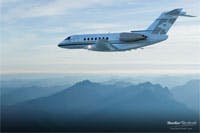 The Hawker 4000 is an entry level transatlantic private jet with very impressive performance for its price tag of $21 560 000.
The Hawker 4000 is a strong competitor to the more expensive Challenger 300 and Falcon 50.
Hawker 4000: History : Flight Range : Reputation : Interior
Hawker 4000 History
The Hawker 4000 was originally developed by the Raytheon Aircraft Company as an upgrade to the popular Hawker 1000. It was initially planned to call the aircraft the Hawker Horizon. The prototype flight took place in 2001, before going on display at the annual National Business Aviation Association (NBAA) show in 2002. In 2006 Raytheon built custom facilities to continue the development of the Hawker 4000. The state-of-the-art 10,400m2 facility was built in Little Rock, Arkansas at a cost of $16.3 million. By the time of the first deliveries in 2008 the Raytheon Aircraft Company had been bought by Hawker Beechcraft.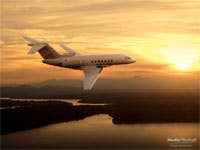 The Hawker 4000 is made using carbon composites (instead of aluminium) which makes the aircraft lighter, faster and increases fuel efficiency. The flight range allows for non-stop flights between London and Dubai, New York or Moscow.
As with many aircraft in the long range jet class the Hawker 4000 requires a significant runway landing distance, which limits the use of some smaller airports.
Hawker 4000 Reputation
The Hawker 4000's range, top speed of 470 kts and cabin comfort make this aircraft popular amongst private jet charter passengers, pilots, aircraft owners, and fractional ownership fleets.
Hawker 4000 Interior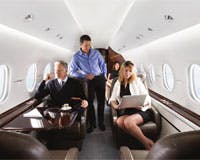 The carbon composite structure makes the cabin spacious and light for passengers. The space available offers room for a Flight Attendant, full galley (for in flight catering), and built-in rest room on board.
The stand up cabin (6ft) helps to reduce fatigue for both pilots and passengers.
The Hawker 4000 has a heated baggage area, which is accessible from the cabin even mid-flight.
Charter a Hawker 4000
The Hawker 4000 is available for charter on the PrivateFly private jet charter network of accredited private jet operators.
To charter a Hawker 4000 for your private flight call +44 (0)20 7315 4415.