Global Express 6000 vs Gulfstream G550
For private jet charter advice and prices call our 24 hour expert Flight Team on +44 (0)20 7315 4436 or search for instant estimate prices from your local airport using our flight search:
The Gulfstream G550 and Bombardier Global Express are key players in the Ultra Long Range Jet market, both offer non-stop access to long-distance destinations in a comfortable and luxurious environment.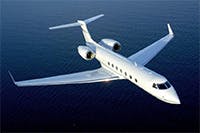 G550
The G550 is a variant of the pioneering GV, distinguishable by a seventh passenger window on each side of the aircraft. In the aircraft's first two weeks of service, it set a city pair record; flying non-stop between Seoul and Orlando, covering a distance of 7301nm in 14.5 hours. The cockpit is kitted out with Gulfstream's PlaneView, often described as the most advanced flightdeck in business aviation.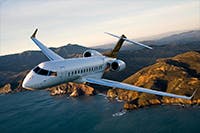 GLOBAL 6000
The Global 6000 is the most luxurious model in Bombardier's fleet, making it a firm favourite for business travel.
This aircraft has resulted from the development of the existing Global Express, and thus there have been many performance improvements including a better flight deck, improved aerodynamics and a re-fuel time shortened by 15 minutes.
COMPARISON OF KEY FACTS
|   | Bombardier Global 6000 | Gulfstream G550 |
| --- | --- | --- |
| Seats | Up to 16 | Up to 18 |
| Range | 6000nm | 6750nm |
| Cruise Speed | M 0.85 | M 0.8 |
| Take off distance | 6476ft (1974m) | 5910ft (1801m) |
| Landing distance | 2670ft (814m) | 2770ft (844m) |
| Cabin Height | 2.11m | 1.88m |
| Cabin Width | 2.49m | 2.24m |
| Cabin Length | 14.70m | 13.39m |
| Luggage Capacity | 325 cu.ft | 226 cu.ft |
| Purchase price | $45m | $50m |
| Average flying cost per hour | $6763 | $6651 |

The most noticeable difference between the aircrafts is the Global's more spacious cabin, of course the G550 still offers a sizeable environment to relax and large windows to provide natural light, however the Global 6000's height provides a more generous space. If luggage is important then the Global 6000 offers an impressive 44% greater capacity than the G550.
If you require to maximise the number of passenger then a G550 configuration may be more suitable. In addition the Aircraft's superior short-field runway capabilities may give greater airport accessibility, consequently getting you closer to your final destination and reducing ground transportation time.
Both Aircraft are capable of non-stop continent hopping, at high cruise speeds, linking cities such as Sao Paolo and Moscow, Edinburgh and Beijing and Guatemala City and Madrid with ease.
The Global 6000 and G550 can be chartered for a similar price meaning it is a choice of preference between the two. The Gulfstream's acquisition cost is higher, however this price includes an array of interior features fitted as standard, with this in mind, you are more likely to come across a better equipped cabin in the G550.
STILL NOT SURE WHICH AIRCRAFT TO CHARTER?
For advice on chartering an aircraft for your private flight call our team of experts +44 (0)20 7315 4436 24 hours or contact us to recommend the best aircraft for any charter flight.