Bombardier Global Jets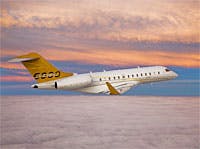 The Global family is Bombardier's collection of long range business jets, designed for non-stop intercontinental travel.
With an optimized performance and comfort for 8 passengers, the Global 5000 is able to fly non-stop from London to Seattle.
The Global Express XRS, rebranded as the Global 6000, can fly the same number of passengers non-stop from Moscow to Los Angeles.
For private jet charter on a Global jet call +44 (0)20 7315 4334 (24 hours).
PrivateFly introduces Bombardier's range of Global private jets, how to choose the right Global jet for your flight and what's next for the Global family.
Global Private Jets
Bombardier is currently developing the two new members of the Global Family: the 4-zone cabin Global 7000 and the 7 900 NM-range Global 8000.
The Global 7000 is due to enter into service in 2016 and will offer a longer range and increased comfort with its 4-zone longer cabin offering 20 percent more living space than the Global 6000.
The Global 8000, due to enter into service for 2017, will be able to fly further than any other executive jet, pairing Mumbai and New-York with a range of 7 900 NM, comparable to a Boeing 777-300ER.
Comparing Global Jets
| Aircraft | Flight Range | Passengers |
| --- | --- | --- |
| Global 5000 | 5 200 NM | Up to 17 |
| Global 6000 | 6 000 NM | Up to 19 |
| Global 7000 | 7 300 NM | Up to 19 |
| Global 8000 | 7 900 NM | Up to 19 |
Watching Bombardier's Global Jets: I am Global
Bombardier Global Interiors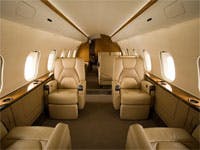 The Global family cabins are designed to be comfortable for the duration of long transoceanic flights.
The cabins can be configured to hold between thirteen and nineteen passengers and can be divided into three for increased privacy.
Two fully-enclosed lavatories are in the cabins, one of which can be equipped with a shower. Extensive cabin insulation cuts down on noise and improved engines produce less cabin vibration.
Cabin features common to both the upcoming Global 7000 and Global 8000 include new enlarged windows offering maximum natural light.
Still not sure which Bombardier Private Jet to charter?
Our team of experts is available 24 hours a day on +44 (0)20 7315 4334 to recommend the best aircraft for any charter flight.