Spotlight: Boeing Business Jet (BBJ)
For private jet charter advice and prices call our 24 hour expert Flight Team on 020 7100 6960 or search for instant estimate prices from your local airport using our flight search: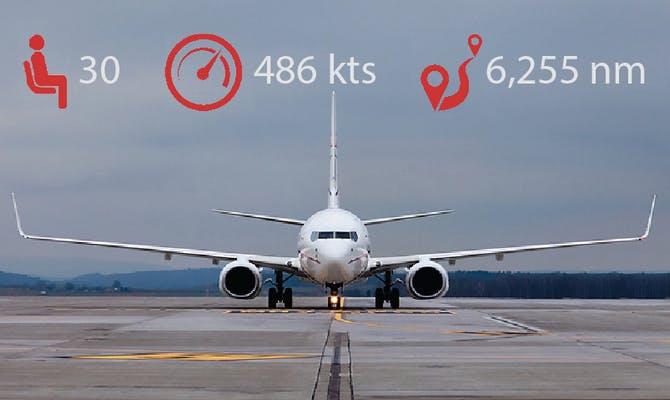 The Boeing Business Jet is a converted 737 airliner, and is the world's largest commercially available private jet.
Imagine a 100 seat airliner, with a re-designed interior to accommodate only 20 passengers, in complete luxury! Most BBJs have bedrooms, dining tables, showers and full conferencing suites.
The BBJ has two major competitors in its class, the Embraer's Lineage 1000 and Airbus's A319 Corporate Jet.
While the name BBJ does usually refer to a converted 737 airliner, Boeing also converts airliners as large as the new 787 and even 747 into flying palaces.
Seats: Up to 30 Speed: Up to 486 kts Range: 6141nm
Boeing Business Jet: History | Flight Range | Reputation | Interior
Boeing Business Jet History
The first BBJ was the Model 80 which was launched on the 27th July 1928 with 12 leather seats, elegant reading lamps and wicker furniture. The first 737 conversion was completed in 1996 and since then Boeing have successfully developed the larger BBJ 2 and BBJ 3, based on larger variants of the 737 aircraft.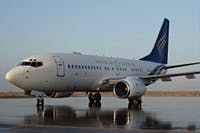 Boeing Business Jet Flight Range & Runways
The aircraft has a standard flight range of 4 960nm which means BBJs can fly non-stop from London to New York.

However, using extra auxiliary fuel tanks the aircraft's range increases to 6200 nm, enabling the aircraft to fly non-stop from London to Tokyo, Los Angeles or Johannesburg.

Inevitably the aircraft requires longer runways than the typical corporate jet, limiting the use of smaller airports.
Boeing Business Jet Reputation
Pilots describe the Boeing Business Jet as the statesman of private jets, when you're parked next to a BBJ you pay it homage! Boeing's aircraft build and interior design reputation combined with their practicality and luxury interiors make this aircraft unique in its class.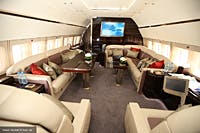 Boeing Business Jet Interior
Boeing Business Jet customisation options are endless, standard options include large living areas with spacious lounges, dining areas and bedrooms. On board gyms, conference centres and private offices can be built into the aircraft's spacious interior.
BBJ's will include the latest aircraft interior technology, with twin zone temperature and humidity control which uses 100% fresh air. The galley of the aircraft is large enough to cater for large groups or silver service catering. Often the aircraft will also be equipped with several business-class style seats for members of staff.
To charter a BBJ for your private flight call 020 7100 6960.