Spotlight: Seaplanes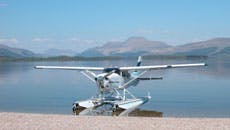 In Europe airlines use only 300 airports, private jets can access a network of 3000 airfields but your destinations are infinite when you charter a seaplane.
PrivateFly investigates the use of Seaplanes and Floatplanes for flights around the world.
For private jet charter advice and prices call our 24 hour expert Flight Team on +44 (0)20 7315 4430 or search for instant estimate prices from your local airport using our flight search:
Seaplanes — The Business Efficiency Tool
In some regions of the world flying by seaplane makes commercial sense. 
Australia: Sydney to Newcastle
In Australia driving from Sydney to Newcastle can take 3 hours along the winding F3 Hunter Expressway. With both financial centres being on the water front, the 30 minute seaplane flight can allow you to attend two meetings only 45 minutes apart.
Entertain in Style — Seaplane Flights

Scotland
Flying by seaplane is a unique travel experience. PrivateFly's private jet operators in Scotland serve 28 airports, but Scotland's vast number of lochs and bays provide an infinite number of landing sites for PrivateFly's seaplane operators.

USA and Canadian Seaplanes
Floatplanes have also proved their salt in regions in Canada and the US. In the northern parts of North America, seaplanes are vital for the oil and gas industry, flying to areas with no access to runways and beyond the range of helicopters.
In Alaska, seaplanes are a lifeline for many people, providing important links to population centres from the remote expanses of the state, where the only possible space to land an aircraft is on a lake.
Dubai & the Middle East
In Dubai seaplanes offer a glamorous sightseeing flight over the city-state's imposing skyline or a rapid transfer along the Dubai shoreline and south to Abu Dhabi, it is undoubtedly the most unique manner of travelling around these desert metropolises.

Island Flights by Seaplane
There is also no better way to reach one's island paradise. From the Caribbean to the Mediterranean, the seaplane remains the most time and cost-effective way to arrive at your dream destination (often directly to the beach) and to do so in style
Unbounded by the need for runways and airports, seaplanes are not just a romantic a throw-back to the heyday of aviation, but an aircraft that offers fantastic transport links.
For business or for leisure, the seaplane will grow as a staple of the global air charter market.
Hire a Seaplane
Please call +44 (0)20 7315 4430 for a seaplane charter quote or seaplane hire advice.