Spotlight: Diamond Twin Star
For private jet charter advice and prices call our 24 hour expert Flight Team on +44 (0)20 7315 4337 or search for instant estimate prices from your local airport using our flight search:
Seats: 3 Speed: Up to 172 kts   Range: Up to 1129nm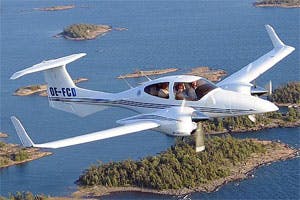 Faster than any car, train or helicopter, and one of the greenest and most cost-efficient private aircraft on the market, every flight on board the Diamond DA-42 Twin Star sparkles!
The Diamond DA-42 Twin Star private aircraft is powered by two highly efficient 1.7 litre turbo diesel engines which are based on a Mercedes-Benz automotive design.
The DA-42 Twin Star was certified in Europe in 2004 and was the first diesel-powered fixed wing aircraft to make a non-stop crossing of the North Atlantic.
The DA-42's two engines will burn just 45 litres an hour while cruising at a fast 333km/h (180kt).
The Diamond Twin Star can fly from London to Dublin in just over an hour.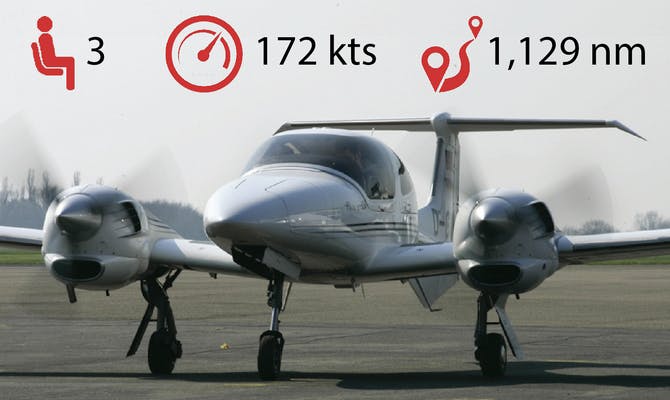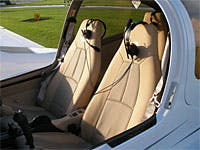 The advantages of this aircraft:
· Fast, but with extremely competitive prices
· Low carbon footprint, burning far less fuel than any other aircraft
· A luggage compartment for up to 75kgs of baggage
The DA42 comes with a comfortable and spacious leather finished interior for four people, of which 3 can be passengers.
The Diamond Twin-Star's slick interior combined with fantastic fuel consumption and range, means that it is perfect for short flights, whilst remaining fast, exciting and comfortable.
Private flights on the Diamond Twin Star
Please call +44 (0)20 7315 4337 for a Diamond Twin Star private aircraft charter quote or business jet hire advice.