Spotlight: Cessna Citation CJ4
For private jet charter advice and prices call our 24 hour expert Flight Team on +44 (0)20 7282 4926 or search for instant estimate prices from your local airport using our flight search:
Seats: 7 Speed: Up to 453 kts Range: Up to 2002nm
Cessna's Citation CJ4 is now available as part of PrivateFly's network of 7000+ accredited aircraft. For private jet CJ4 hire call our expert team on +44 (0)20 7282 4926.
Cessna's newest production aircraft, the CJ4, has now been on the charter market for just over a year in Europe. How is it faring up?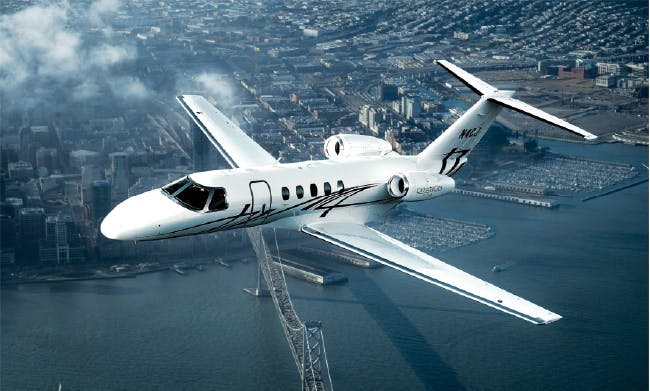 PrivateFly explores the newest aircraft in the Wichita company's world-dominating stable of aircraft.
Larger, faster and more comfortable than any other aircraft in the hugely popular Citation Jet series, the aircraft still maintains its smaller siblings' ability to access a wide range of airfields giving passengers ultimate flexibility on routes and airport choice.
This runway performance has seen the CJ4 become a popular choice for the world's most challenging and scenic approaches such as London City, Nice and Salzburg.
The CJ4's features are the most advanced yet of any in the Citation line. With upgraded engines, avionics and a redesigned wing structure, the aircraft's performance has been increased substantially.
This greater range and higher speed means the CJ4 has flown 6 PrivateFly passengers from London to Moscow at high speed.

Another great advance that that Cessna have made with the CJ4 is in the passenger cabin.
The cabin has been lengthened and widened resulting in the most spacious and ergonomic interior possible in an aircraft of this size. Our clients have mentioned that it feels significantly larger than a CJ3 aircraft, despite the relatively small cost-per-hour premium.
The luxury seating has also been updated with advanced materials resulting in more comfortable chairs that take up less space.
In-flight entertainment, too, has been updated with personal screens featuring Airshow and DVD/Blu-Ray playing capabilities.
The aircraft features a separate lavatory and wash basin and a deluxe refreshment area providing hot and cold food and drinks, with significantly higher specifications than other light jets.
Combining high performance and luxury with the efficiency and accessibility of a small jet, it is our prediction that we will see an ever increasing number of CJ4s become available within the global charter market, which can only be a good thing for passengers.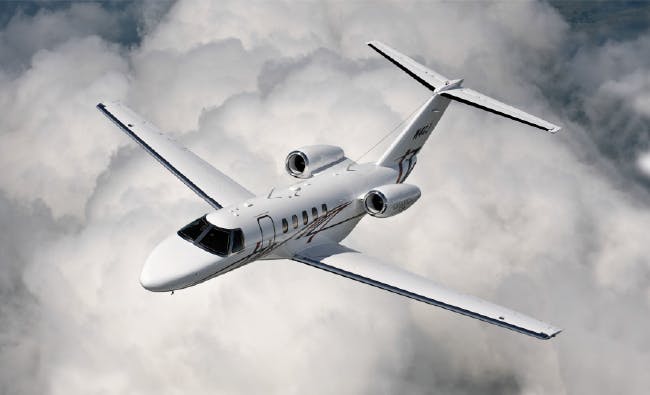 Comparing the Cessna Citation CJ4
| Aircraft | CJ1 / 1+ | CJ2 / 2+ | CJ3 | CJ4 |
| --- | --- | --- | --- | --- |
| Image | | | | |
| Year introduced | 1992 | 2000 | 2004 | 2009 |
| Seats | 6 | 7 | 7 | 8 |
| Cruise Speed | 440mph | 480mph | 475mph | 510mph |
| Range nm | 1250 | 1400 | 1488 | 2002 |
| Cabin Length | 3.35m | 4.14m | 4.78m | 5.28m |
| Cabin Width | 1.47m | 1.47m | 1.47m | 1.47m |
| Cost per Flight Hour | £2000 | £2050 | £2200 | £2350 |
| Aircraft Cost | $6m | $7m | $8m | $10m |
| Features | The CJ1 was developed to replace the Citation I. It featured advanced avionics and engines and increased passenger comfort.The CJ1 has now set the standard for light jet travel across the globe. | The CJ2 is a stretched version of the CJ1. It carries an extra passenger and its upgraded engines and avionics provide increased performance over its smaller sibling. | The CJ3 is a re-vamped and further extended version of the CJ1. With stylish interiors and advanced on-board entertainment, the CJ3 is among the most luxurious light jets currently available. | The CJ4 is the brand new and completely updated Citation Jet. It features a new cabin design and wing shape that provides both significantly increased performance and the best possible level of passenger comfort in the light jet market. |
Watch the Cessna CJ4
How to charter a Citation CJ4
Please call +44 (0)20 7282 4926 or contact us for a private jet charter quote or business jet hire advice.